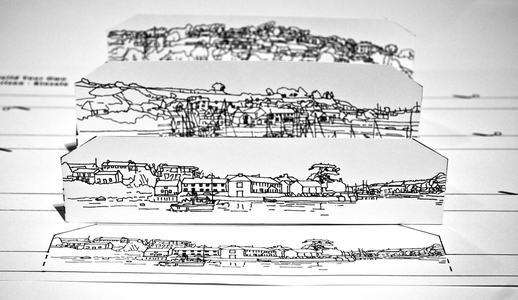 Image:
Build Your Own Horizon
/ Kinsale, 2020, prototype cutout, ink on paper, 10 x 29cm
Sarah Iremonger's multi-media installations utilized photography, murals, painting, drawing, badges, cards, digital media, video and neon. Based in Kinsale, Co. Cork, Ireland, early work was embedded in romantic and modernist traditions, with epic implications, while later works attempted to attain a kind of entanglement with the world through site-specific installations. This work explored representation and how as a hangover of the romantic tradition, a scenario of separation from the world around us, and each other has been perpetuated. A recent return to painting focuses on the appropriation and adaptation of found images, and a return to core issues around the illusion of perception. These works place subject matter and personal artistic expression in the background, so that visual signifiers become hidden in a forest of jewel like post-representational camouflage.
Early work
The
early paintings
from the 1990's, focused on depicting representations of space and light on a flat surface in layers of dark oil paint, using walls, windows and doorways to create the illusion of space within the picture plane. These works explored how the illusion of space could be created on and beyond a flat surface through layers of luminous dark oil colours on canvas.
The conceptualization of her practice towards the end of the 90's in 1998, changed the way she approached her central concern
the quandary of painting
1999-2003;
work became more research based and explored
how context shapes meaning. Becoming fasinated with the idea of representation as subject matter instead of a means to an end. Developing a multidimedia approach to create installations and exhibitions, exploring the way site affects meaning. For example in the exhibition
The Top Half of the Hero
at the Triskel Arts Centre, Cork in 2002, images of the gallery space and the hidden office spaces were reproduced and included as part of the exhibition in the form of drawn murals and photographs. This created a dislocation between space and meaning, creating a heightened awareness of the site.
Recent work
Vessels
2019-2
2
The vessels used in these works come from different countries; these include North America, Thailand, Iran, Turkey, Pakistan, Syria and Sudan. Some are thousands of years old, some hundreds. They have been reduced to transparent silhouettes, superimposed one on top of the other and painted as transparent colour separation films, using the base colours magenta, cyan and yellow, to resemble a Venn diagram.
This work has been made in the context of a post-representational, postromantic thought process, for example by using diagrams, images that interact with the world rather than representing it as source material, opens up the possibility of a different kind of entanglement with the world. Here the work has been painted from the perspective of colour as transparent refracted light. The framework holding this light, resembles a Venn diagram, which uses a self-directed concept that 'generates the thing to be done' Catherine Harty 2021). The vessels have been chosen because of their multi-time, multi-national implications.
Work from this series will be exhibited at the
Oliver Sears Gallery
, Dublin (May - June) 2022, recievd a 'Cork County Council Creatives Artists Bursary 2022' towards this exhibition, can be seen as part of the online exhibitions
'
The Time of Our Lives'
2020 and
'New & Recent Work'
2021, at
Oliver Sears Gallery
.
Build Your Own Horizon
was a public participation project, created as part of the
Bealtaine Artist in Residence
program at Uillinn, West Cork Arts Centre, Skibbereen, Co. Cork in association with Cork County Council (May) 2022 and exhibited with
Re:Group
as part of
Fragments in Constellation
at the O'Driscoll building for Skibbereen Arts Festival 2022. This project involved a drawing workshop where participants draw the horizons through the windows from each of the floors at Uillinn. Uillinn is situated in the center of Skibbereen town, a contemporary building rising up four floors, providing panoramic views of the town on several levels, exploring the idea of the horizon as constantly shifting and ephemeral, depending on the perspective or situation of the viewer. The drawings were reproduced as 1000 cardboard cut-out horizons.
2014 saw a return to painting through the development of a collaborative project
Horizons
with the late poet Derek Mahon. This project involved a poem and a completed prose piece, which was published as part of the collections 'Olympia and the Internet
'
and 'Against the Colck' published by The Gallery Press 2017 and 2018 respectivly. This work was exhibited as part of 'Press Play' at Oliver Sears Gallery, Dublin in 2019 and recieved a 'Cork County Council Arts Grants Scheme Award 2015'.
The watercolours and drawings in this project are based on a variety of images sourced from original photographs and drawings, as well as found online images and art history. They have been painted in the style of camouflage and layered to create a fragmented confusion of abstract shapes. Images include photographs of Cork Harbour and Skellig Michael, as well as found online images of Star Wars and nature camouflages, and the works of painters James Arthur O'Connor and Mondrian.
On the verge of the invisible, these works investigate the identity of place and how, in the case of Skellig Michael, this identity has been co-opted or displaced for mass media and corporate gain. Their style references early twentieth century abstract art with a digital twist. By placing the agency of subject matter and personal artistic signature and expression in the background, the visual landscape signifiers become hidden in a forest of post-representational camouflage like thought experiments exploring the illusion of perception.
Earlier work
Solipsism Series
was exhibited at Macroom Town Hall, Co. Cork 2013 as part of 'World View of an Oyster' exhibition curated for Cork County Council, and shown at the Royal Hibernian Gallery, Dublin 2014. The works consist of digitally manipulated images of nineteenth century maritime paintings of Cork Harbour by Cobh artist George Mounsey Wheatly Atkinson. They are printed and mounted on dibond. By removing the subject matter of the paintings, for example the ships, offers the opportunity for a different interpretation of the paintings and collapses the subject/object duality of the paintings.
Landscape Unions
include the
Desert, Mountain and River Unions
.
Desert Union
was exhibited as part of 'Worlds End' project at The Guesthouse, Cork 2011. It consisted of a multimedia installation using photography, video, text, lights and smoke. This line of thinking came about through a residency at The Broken Hill Art Exchange, NSW, Australia in May 2011, and the work of Austrian / Australian nineteenth century artist Eugen von Guérard, it explores the positioning of power in relation to nature, and how this is influenced by historical colonial perspectives about landscape. Here nature attempts to fight back, acquire its own agency and rights through the idea of forming landscape unions.
The Travels of Eugen von Guérard
shown at allerArt, Austria 2011 and Sirius Arts Centre, Co. Cork 2012, looked at how the work of nineteenth century Austrian / Australian artist Eugen von Guérard exported a specific European colonial vision of landscape to Australia. This work explores the idea of the artwork as an ephemeral object imbued with meaning, and shows how our ideas about nature are a construct of specific cultural perspectives. Using found objects, photography, text and a painted mural to confound fiction and fact, past and present, exploring the nature of our understanding of images of landscape.
Different materials such as video, neon, drawn and painted murals, printed media, and photographs have helped me explore the relationship between perception and meaning.
The Hunting Box Party
2005-2021 was shown at the Crawford Art Gallery, Cork in 2005, the Knoll Gallery, Vienna, Austria 2010, the Knoll Gallery, Budapest, Hungary 2011, The Armory Gallery, Sydney Olympic Stadium, Australia 2011 and the Emmanuel Walderdorff Gallery, in Molsberg, Westerwald, Germany 2021. Using video, painted murals, badges and greeting cards to explore the idea of the artwork as an ephemeral object of imbued meaning. This work and the
Landscape Unions
2011 uses politics as a context within which to make artwork. These works are critical of an anthropocentric view of nature.
In the exhibition
I thought I dreamed of you
2009-10 at the West Cork Arts Centre, a painted mural and faked documentation of the same mural installed upside down in the gallery are exhibited together. The documentation took the form of drawing on a photograph of the exhibition space, suggesting a slippage and dislocation of space and time, fact and fiction. Consisting of photography, video, neon, drawing, wall painting and badges, this exhibition explored how we understand our reality. Can we be sure it even exists? Is it just a dream, a series of thoughts?
I thought I dreamed of you
explored the idea of fragmented realities presenting a sort of post-modern possibility. The title of the exhibition is a give-away
I thought I dreamed of you
explores the idea of 'I' as a thinking presence, while 'dreamed' questions the nature of reality suggesting it is imagined and constantly in flux, and 'you' is experienced in terms of an existential quandary of the other, questioning how we understand ourselves through others and the world around us.
Sarah Iremonger 2022