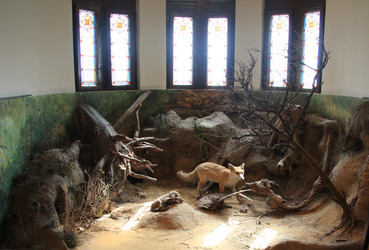 Image:
Desert Union
at 'Worlds End' detail 2011
Photograph printed on hahnemuhle photographic paper
21 x 30 cm
Sarah Iremonger was born in Dublin in 1965, lives and works in Kinsale Co. Cork, Ireland as a visual artist. Co-founded the
Sirius Arts Centre
, Cobh, Co. Cork in 1985, volunteering there until 1999 and working as visual arts curator and artists liaison 1999-2015. Sarah studied pre-diploma and fine art at the
National College of Art and Design
, Dublin 1983-85, fine art printmaking and photography at the
Crawford College of Art and Design
, Cork 1985-87 and completed an MA in European Fine Art at the
Winchester School of Art
Southampton University, UK in 1998.
R
ecent projects include:
Vessels,
a solo exhibition at
Oliver Sears Gallery
in Dublin (May - June) 2022 supported by a
'
Cork County Council Creative Artists Bursary' 2022;
Build Your Own Horizon,
a public
participation project with Uillinn, West Cork Arts Centre, Skibbereen,
Bealtaine Artist in Residence
and Cork County Council 2022 exhibited as part of
Re:Group
Fragments in Constellation
a collaborative project with Uillinn, West Cork Arts Centre and Skibbereen Arts Festival 2022
;
Change 'Hunters Hide'
group exhibition at Emmanuel Walderdorff Galerie, Hofgut Molsberg, Westerwald, Germany (May-July) 2021;
30 Years of Making
at the Signal Arts Centre, Bray, Co. Wicklow 2021
;
Horizons
a collaborative project with the late poet Derek Mahon started in 2014, was funded through a Cork County Council Arts Grants Scheme Award 201
5 and exhibited at
Oliver Sears Gallery
, Dublin in
2018 & 2019.
24/7
online slide show for the National Sculpture Factory, Cork 2020;
Vessels,
was exhibited online as part of
The Time of Our Lives,
2020 and
New & Recent Work,
2021 at Oliver Sears Gallery Dublin and
An Incandescent Connection
studio exhibition, Kinsale, Co. Cork 2021,
Outdraw
&
Evanescent
exhibitions at Uillinn, West Cork Arts Centre, Skibbereen, Co. Cork 2020 & 2021;
Top Half of the Hero
a neon work and part of the Crawford collection, was exhibited as part of
Heroes and Villians
2018-19 at the Crawford Art Gallery, Cork.
Iremonger illustrated
Atlantis
,
a poetry pamphlet by Derek Mahon in 2019 and
The Rain Bridge
a children's book both published by
The Gallery Press
'is a story written by Derek Mahon for his son, then aged six, a tale of loss, kindness and recovery. Iremonger's illustrations match, in their simplicity, the purity of the author's style.' The Gallery Press 2017,
IL Ponte Della Pioggia
Valigie Rosse, Italy 2018 and in Masedonia in 2019.
Iremonger was Artist in Resident at the
Sydney Olympic Park
and
Broken Hill Art Exchange,
Australia 2011 and was the Von Hess Resident at the
Borowsky Centre, UARTS,
University of The Arts, Philadelphia, USA 2010 where she was also visiting artist and exhibited
I thought I dreamed of you
at Gallery 817, this work was exhibited at the
West Cork Arts Centre
, Skibbereen, Co. Cork 2009-10 and travelled to the
Yarra Sculpture Gallery
, Melbourne, Australia 2010.
Other exhibitions include: showing work as an invited artist at the
184th RHA Royal Hi

bernian Academy

's Annual Exhibition
2014;
World View of an Oyster
which Iremonger curated for
Cork County Council
and Macroom Town Council 2013 working with artists Helen Horgan, Maximilian Le Cain and Mick O'Shea, a catalogue was produced for this exhibition with Cork County Council, writer Danyel Ferrari and designer Stuart Caughlin of
edit+
; other curatorial projects include
Sub-plots
for
allerArt
, Bludenz, Austria 2011 and Sirius Arts Centre, Cobh, Co. Cork 2012 and
Cork Harbour Project
for the Sirius Arts Centre 2007-08.
The Hunting Box Party
was exhibited as part of ,
Hochstitze (Raised Hides)
exhibition at the
Knoll Gallery,
Vienna, Austria 2010, Knoll Gallery, Budapest, Hungary 2011 and
Buffer Zone
at
The Armory Gallery
, Sydney Olympic Stadium, Australia 2011; earlier exhibitions include
Temple Bar Gallery and Studios
, Dublin 2001 and the
Turku Art Museum,
Finland 2003 with
Lumpy Art History
; her work was included as part of
L'Imaginaire Irlandais
at
Villesalem Abbey
in association with
Le Confort Modern
, Poitiers, France and
Cork Paintings was exhibited
at the
John David Mooney Foundation
, Chicago, USA both in 1996.
Awards include:
Cork County Council Arts Grant Scheme
Awards in 2008, 2015 and 2022;
Culture Ireland
Awards for exhibitions in 2003, 2010 and 2011; an
Arts Council
Bursary Award 2005; Artist in Residence Fellowship at the
Kunstlerhaus Schloss Wiepersdorf
, Germany 2003; and an Arts Council New Project Award 2002.
Talks & seminars include:
Space Time: Horizons, Atlantis and A Rain Bridge,
Derek Mahon Conference,
Sorbonne
Nouvelle,
Paris, France (May 2022)
;
Floating Above the Horizon,
Derek Mahon, 80th Birthday Celebration Conference,
Trinity College, Dublin (November 2021)
;
and
Artists of Cobh and Great Island
'This Must Be the Place' Sirius Arts Centre, Cobh, Co. Cork 2018.
Commissions include: the
Upside-down Mountains
which consisted of a neon installation and a painted mural commissioned by the
OPW
Office of Public Works for the
Northside Civic Centre
, Coolock, Dublin 2003 with adaptations in 2012;
Where's Me Cork?
and
Freedom Box
video
works
were commissioned for the
Airgador - Cork Silver and Gold
exhibition
Crawford Art Gallery
, Cork for the European Capital of Culture Cork 2005.
To view recent work contact
Oliver Sears Gallery
/
+353 (0)1 6449459
/
33 Fitzwilliam St Upper, Dublin 2, Ireland